The cultural landscape of the modern world is constantly changing. Internet celebrities are created in as little as six seconds. Viral videos can be viewed in every continent across the world in a matter of hours. There's a lot going on.
As a result, there are also a lot of opportunities for brands to join the conversation — that is, if they can keep up. With things moving at such a fast pace, trends can disappear before we even have time to craft a meaningful message in response to them.
But what technology takes away in terms of time to prepare, it makes up for in ways to monitor and follow these (sometimes global) conversations. In fact, there are a ton of awesome tools and tricks of the trade out there that are designed to help brands make the most out of popular content and trends.
That's why we put together the following guide on trending content: to help all of you figure out a plan for not only discovering and planning for trends and events, but also finding ways to connect your brand's story to them in an interesting and relevant way.
A Simple Guide to Navigating Trending Content
Discovering Trending Content
Price: Free version available. Paid packages are broken down into three categories: Pro ($99/month), Agency ($299/month), and Enterprise ($999/month).
With the help of BuzzSumo's "Most Shared" function, users can easily identify what content has worked well in the past. What's more, the "Trending Now" function can display the most popular content being read across the internet within the last two hours.
The "Most Shared" function is perfect for mining ideas for your next content campaign, while the "Trending Now" function is ideal for tapping into articles and conversations that people have responded to in real time.
Price: Free trial available. Paid packages are broken down into three categories: Lite ($99/month), Standard ($179/month), and Advanced ($399/month).
This is another great tool for finding the best performing content in a desired niche. Simply input your keyword — for example, let's use "content marketing" — and filter down the timeframe you'd like to see results from. That's it.
The tool simply lists the top pieces of content from the past month based on social shares. (Zazzle Media's very own Simon Penson is actually featured in the number three spot … so it's obviously a smart tool.)
Price: Free.
Google Trends is a great resource for surfacing some of the biggest daily headlines, as well as stories on the rise.
It's easy to use and, as a Google tool, is informed by more data than you can shake a stick at.
Analysing a portion of Google searches, it examines the number of searches carried out for certain terms, against the total searches done on Google over the same time.
It then ranks the most popular stories trending in order of popularity. From there, simply click on the story to find more information on why it's trending and where.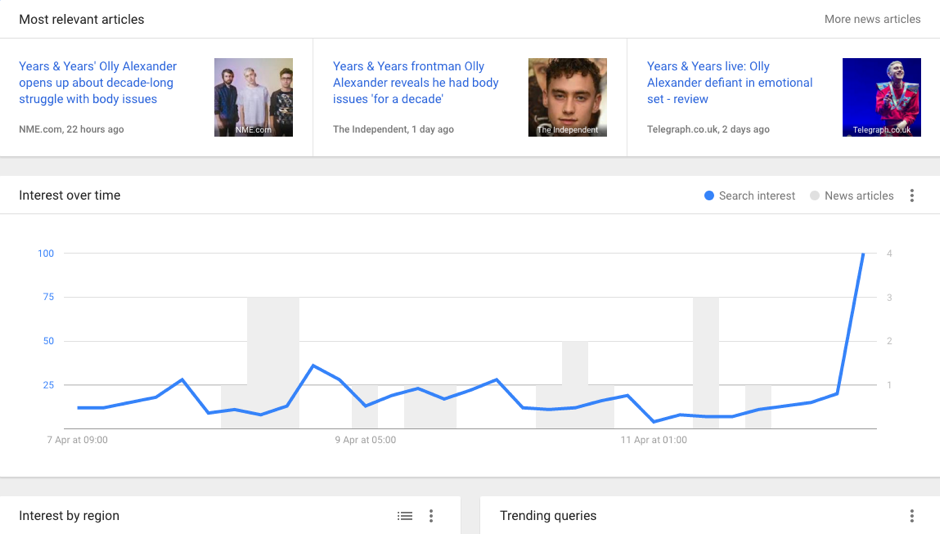 Price: Free version available. Paid packages are broken down into two categories: EpicBeat Plus ($39/month // $268/year) and EpicSuite ($249/month).
EpicBeat is a helpful tool designed to simplify trending content research. You can search for content by topic or website, or explore curated topics.
With each search, you'll gain access to social sharing counts, as well as some insights behind these shares — for example, EpicBeat provides a list of people that have shared a specific piece of content in the last seven days. This information can be used to inform the audience you should be focusing on, while also providing a selection of influencers for you to seed your finished content out to.
Price: Free.
Commonly referred to as "the front page of the internet," Reddit should be one of the first destinations you visit to find out exactly what people are buzzing out during the day.
From news and videos, to funny stories and conspiracy theories, the content on Reddit often reflects the things that people across the world are finding interesting … in real time.
To uncover some potentially undiscovered viral content, check out the "rising" tab. This will help you jump on trends early, so you can beat all your competitors to the chase.
Creating a Calendar of Upcoming Events
Some events are always going to be massive. From the Oscars to the Olympics, the calendar is filled with world-famous events that will be latched onto by brands.
That's why it's so important to create a definitive calendar of upcoming events. With a calendar in place, you'll be more prepared to create marketing campaigns in response to the events that align with your brand and your audience's interests.
Twitters U.K.'s #OwnTheMoment Planner is a great starting point for this. The planner provides a calendar that comes fully equipped with cultural events to keep an eye on. (Think: Father's Day, Summer Solstice, and Wimbledon.) The goal is to give you a sneak peak into the moments that Twitter believes will get people talking over social media.
(Note: Because this tool was created by folks from Twitter's U.K. and Ireland team, many of the events are specific to that region.)
Of course, this really is just a starting point, putting together an events calendar personalised with key events relevant to your industry and audience is the best way to get the most out of this exercise.
Working Popular Trends and Events Into Your PR Strategy
Now that we have our tools and a well-stocked calendar of events, it's time to find out how these can help us with our PR campaigns.
Let's walk through some of the most important things to consider when executing a trend-driven PR campaign.
General Opportunity
You've identified a trend that you may be able to leverage. That's great. But before you shoot off to pitch the idea to your team or client, there are two questions to ask to ensure that you're making the right move:
Is this trend worthwhile?
Have people just started talking about this? Or is the trend coming to the end of its shelf life? Using Google Trends, we can see exactly when the trend started, as well as the peak period of popularity for the story. Ideally we're looking for a recurring trend that people are going to be actively searching for over and over.
Is there demand for content surrounding this trend?
Is there room for a new piece of content to add something to the story? Or has the market become saturated about the trend? Using Content Explorer, we can find the best performing pieces of content for this trend, as well as the sheer amount of content concerning the topic.
If there is opportunity to build on content for this trend, it's time to see how we can create something better than everything else out there.
Inspiration and Direction
Researching successful campaigns from past years is always a great place to start when brainstorming new content ideas. There is no point in recreating something done in the past, however, building on an idea to make it stronger is definitely a way forward.
This is where BuzzSumo comes into its own. Simply find the best performing pieces of content created for the same (or similar) trend in the past, and use this as a platform to develop bigger and better ideas.
So now that we have our idea for a perfect piece of trending content, it's time to find out who will be interested in sharing it.
Placement and Distribution Ideas
Another three questions for you to think about when planning to distribute your content:
Which outlets have written about this before?
Are there any specific journalists that typically cover events like this?
Is there anything we can give these outlets and journalists to ensure they get involved with our campaign?
To start answering these questions, look at the authorship of previous articles relating to the trend you're working on and reach out to see if they're still interested in this topic. Epicbeat's influencer finder is also a great tool for identifying the key players interested in a particular trend or topic.
If the pitch is concerning a forthcoming event, remember to give them plenty of time before the date. This will make it easier for them to think about what they might need, and give you enough time to get this information to them.
As with any discussion of this type, referencing and taking an interest in an article a journalist has written before is the best way to show how invested you are in working with them. This could be the difference between a feature article online and being left on the cutting room floor.
Need Inspiration? Check Out These Examples
AO Christmas Dinner Project
The holiday season provides marketers with a great opportunity to hop on a popular trend and ride the wave. This guide to Christmas dinner from AO is a great example of how a brand can tap into a trending conversation, while providing people with unique value.
The Idea: To create a definitive interactive guide for preparing Christmas dinner.
The Goal: To increase brand awareness for AO.com and drive traffic to the guide.
The Result: Multiple pieces of coverage gained on both DailyMail.com and The Huffington Post, as well as an additional 20+ links to the portal and its contents.
American Greeting's #WorldsToughestJob
This Mother's Day-themed campaign from American Greetings is another great example of how to leverage a trending holiday to create a really compelling piece of content.
The Idea: To create an emotional piece of content that reminds viewers just how hard it is to be a mom.
The Goal: To encourage viewers to show their moms some appreciation by creating a Mother's Day card with American Greeting's Cardstore.
Have I missed anything? Do you have any other tips for tracking down trending content? Let me know in the comments below.